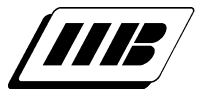 Find Out More...


Institute for Independent Business
---
VentureSphere advisors are Accredited Associates of the Institute for Independent Business



The Institute for Independent Business (IIB) is a not-for-profit research and accreditation body established in 1984 to give independent businesses direct access to some of the country's top business people, and so bringing practical advice & timely ideas to the business. The IIB is now the largest organization of its type in Europe with over 4,000 fully accredited Executive Associates, in 18 countries worldwide, working with businesses mostly within the 'small to medium sized' (SME) sector.
IIB Accredited Executives are able to draw on one of the most comprehensive business support infrastructures in the world, during which time issues arising within any aspect of the business can be addressed.
The IIB has five main aims:
1. To bring to independent business the most practical advice and timely ideas from knowledgeable experts and business innovators; to open doors to important and profitable opportunities; to raise the professional standards of independent business practice; to enhance the image of business leaders and all other executives working within the independent business sector.
2. To advance the understanding of the workings of independent business by research in relevant fields, alone or in co-operation with other interested and competent bodies.

3. To provide research facilities pertaining to independent business for the benefit of and use by other persons or bodies.

4. To disseminate such findings and information as may be useful to the operators of independent business by all means expedient, more particularly through training courses, educational programs, conferences, journals and other publications or media.

5. To educate and train those working within the independent business sector to such a standard that they may confidently work independently at the appropriate level.
The Importance of Small to Medium Sized businesses
According to national statistics, 99.5% of all businesses employ fewer than 200 people, 98% employ fewer than 50 people and 96.4% employ fewer than 20 people! Clearly, the economy is hugely reliant on the small to medium sized business. These figures illustrate the importance of providing high quality business advice to the SME sector rather than aiming initiatives at much larger companies who have the resources to buy in professional directors and expertise as required.
However, business leaders in an SME environment do not typically have the luxury of this level of resource and expertise, and are generally expected to know everything, keep up with everything and do everything themselves. Clearly a very unsatisfactory situation.
What about practical assistance?
Research, both by the Institute, and by several academic organizations, has indicated that the SME sector requires not only information and advice in order to survive and grow, but also practical assistance, preferably from more mature business executives who had 'been there, seen it and done it'. In order to be effective, a practical implementation phase is required. It is also evident that traditional pure consultancy is not generally appropriate as most larger consultancy practices are unable or unwilling to fulfill this need as their cost structures and style are generally not appropriate to the SME sector.
Who are the IIB Executive Associates?
All IIB Executive Associates are themselves senior executives from any and every profession, background and industry imaginable. Generally, all IIB executives are mature business people with over 20 years senior management experience, either as Chief Executive, Managing Director, Finance Director or other Executive Board Directors, and having thus experienced first hand the pressures, stresses and joys of running a business. Many have started up, run and eventually sold their own businesses and others having run some of the best known businesses in the world. In short, IIB Executive Associates have 'been there, seen it, and survived to tell the story'!